CHAPTER 3
NOT ALL THAT Mrs. Bennet, however, with the assistance of her five daughters, could ask on the subject, was sufficient to draw from her husband any satisfactory description of Mr. Bingley. They attacked him in various ways-with barefaced questions, ingenious suppositions, and distant surmises; but he eluded the skill of them all, and they were at last obliged to accept the second-hand intelligence of their neighbour Lady Lucas. Her report was highly favourable. Sir William had been delighted with him. He was quite young, wonderfully handsome, and, to crown the whole, he meant to be at the next ball with a large party. Nothing could be more delightful!
"If I can but see one of my daughters happily settled at Netherfield," said Mrs. Bennet to her husband, "and all the others equally well married, I shall have nothing to wish for."
"And if I can see all five of them survive England's present difficulties, then neither shall I," he replied.
In a few days Mr. Bingley returned Mr. Bennet's visit, and sat about ten minutes with him in his library. He had entertained hopes of being admitted to a sight of the young ladies, of whose beauty and fighting skill he had heard much; but he saw only the father. The ladies were somewhat more fortunate, for they had the advantage of ascertaining from an upper window that he wore a blue coat, rode a black horse, and carried a French carbine rifle upon his back-quite an exotic weapon for an Englishman. However, from his clumsy wielding of it, Elizabeth was quite certain that he had little training in musketry or any of the deadly arts.
An invitation to dinner was soon afterwards dispatched; and already had Mrs. Bennet planned the courses that were to do credit to her housekeeping, when an answer arrived which deferred it all. Mr. Bingley was obliged to be in town the following day, and, consequently, unable to accept the honour of their invitation, etc. Mrs. Bennet was quite disconcerted. She could not imagine what business he could have in town so soon after his arrival in Hertfordshire. Lady Lucas quieted her fears a little by starting the idea of his being gone to London only to retrieve a large party for the ball; and a report soon followed that Mr. Bingley was to bring twelve ladies and seven gentlemen with him to the assembly. The girls grieved over such a number of ladies, but were comforted by hearing that instead of twelve he brought only six with him from London-his five sisters and a cousin. And when the party entered the ball, it consisted of only five altogether-Mr. Bingley, his two sisters, the husband of the eldest, and another young man.
Mr. Bingley was good-looking and gentlemanlike; he had a pleasant countenance, and easy, unaffected manners. His sisters were fine women, with an air of decided fashion, but little in the way of combat training. His brother-in-law, Mr. Hurst, merely looked the gentleman; but his friend Mr. Darcy soon drew the attention of the room by his fine, tall person, handsome features, noble mien-and the report which was in general circulation within five minutes after his entrance, of his having slaughtered more than a thousand unmentionables since the fall of Cambridge. The gentlemen pronounced him to be a fine figure of a man, the ladies declared he was much handsomer than Mr. Bingley, and he was looked at with great admiration, until his manners gave a disgust which turned the tide of his popularity; for he was discovered to be proud, to be above his company, and above being pleased.
Mr. Bingley had soon made himself acquainted with all the principal people in the room; he was lively and unreserved, danced every dance, was angry that the ball closed so early, and talked of giving one himself at Netherfield. And though he lacked Mr. Darcy's proficiency with both sword and musket, such amiable qualities must speak for themselves. What a contrast! Mr. Darcy was the proudest, most disagreeable man in the world, and everybody hoped that he would never come there again. Amongst the most violent against him was Mrs. Bennet, whose dislike of his general behaviour was sharpened into particular resentment by his having slighted one of her daughters.
Elizabeth Bennet had been obliged, by the scarcity of gentlemen, to sit down for two dances; and during part of that time, Mr. Darcy had been standing near enough for her to hear a conversation between him and Mr. Bingley, who came from the dance for a few minutes, to press his friend to join it.
"Come, Darcy," said he, "I must have you dance. I hate to see you standing about by yourself in this stupid manner."
"I certainly shall not. You know how I detest it, unless I am particularly acquainted with my partner. At such an assembly as this it would be insupportable. Your sisters are engaged, and there is not another woman in the room whom it would not be a punishment to me to stand up with."
"Upon my honour!" cried Mr. Bingley, "I never met with so many pleasant girls in my life as I have this evening; and there are several of them you see uncommonly pretty."
"You are dancing with the only handsome girl in the room," said Mr. Darcy, looking at the eldest Miss Bennet.
"Oh! She is the most beautiful creature I ever beheld! But there is one of her sisters sitting down just behind you, who is very pretty, and I dare say very agreeable."
"Which do you mean?" and turning round he looked for a moment at Elizabeth, till catching her eye, he withdrew his own and coldly said, "She is tolerable, but not handsome enough to tempt me; I am in no humour at present to give consequence to young ladies who are slighted by other men."
As Mr. Darcy walked off, Elizabeth felt her blood turn cold. She had never in her life been so insulted. The warrior code demanded she avenge her honour. Elizabeth reached down to her ankle, taking care not to draw attention. There, her hand met the dagger concealed beneath her dress. She meant to follow this proud Mr. Darcy outside and open his throat.
But no sooner had she grabbed the handle of her weapon than a chorus of screams filled the assembly hall, immediately joined by the shattering of window panes. Unmentionables poured in, their movements clumsy yet swift; their burial clothing in a range of untidiness. Some wore gowns so tattered as to render them scandalous; other wore suits so filthy that one would assume they were assembled from little more than dirt and dried blood. Their flesh was in varying degrees of putrefaction; the freshly stricken were slightly green and pliant, whereas the longer dead were grey and brittle-their eyes and tongues long since turned to dust, and their lips pulled back into everlasting skeletal smiles.
A few of the guests, who had the misfortune of being too near the windows, were seized and feasted on at once. When Elizabeth stood, she saw Mrs. Long struggle to free herself as two female dreadfuls bit into her head, cracking her skull like a walnut, and sending a shower of dark blood spouting as high as the chandeliers.
As guests fled in every direction, Mr. Bennett's voice cut through the commotion. "Girls! Pentagram of Death!"
Elizabeth immediately joined her four sisters, Jane, Mary, Catherine, and Lydia in the center of the dance floor. Each girl produced a dagger from her ankle and stood at the tip of an imaginary five-pointed star. From the center of the room, they began stepping outward in unison-each thrusting a razor-sharp dagger with one hand, the other hand modestly tucked into the small of her back.
From a corner of the room, Mr. Darcy watched Elizabeth and her sisters work their way outward, beheading zombie after zombie as they went. He knew of only one other woman in all of Great Britain who wielded a dagger with such skill, such grace, and deadly accuracy.
By the time the girls reached the walls of the assembly hall, the last of the unmentionables lay still.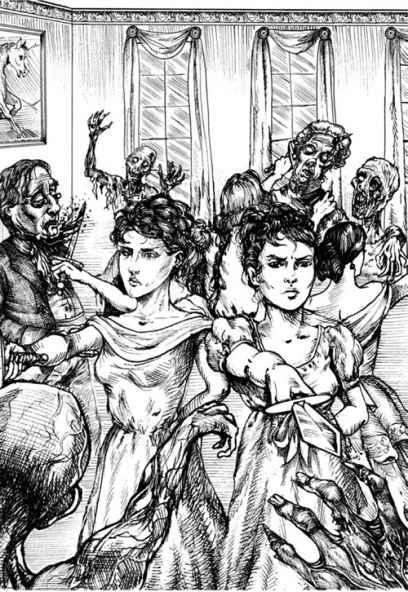 "MR. DARCY WATCHED ELIZABETH AND HER SISTERS WORK THEIR WAY OUTWARD, BEHEADING ZOMBIE AFTER ZOMBIE AS THEY WENT."
Apart from the attack, the evening altogether passed off pleasantly for the whole family. Mrs. Bennet had seen her eldest daughter much admired by the Netherfield party. Mr. Bingley had danced with her twice, and she had been distinguished by his sisters. Jane was as much gratified by this as her mother could be, though in a quieter way. Elizabeth felt Jane's pleasure. Mary had heard herself mentioned to Miss Bingley as the most accomplished girl in the neighbourhood; and Catherine and Lydia had been fortunate enough never to be without partners, which was all that they had yet learnt to care for at a ball. They returned, therefore, in good spirits to Longbourn, the village where they lived, and of which they were the principal inhabitants.
CHAPTER 2 | Pride and Prejudice and Zombies | CHAPTER 4


---