Book: The Mercy Rule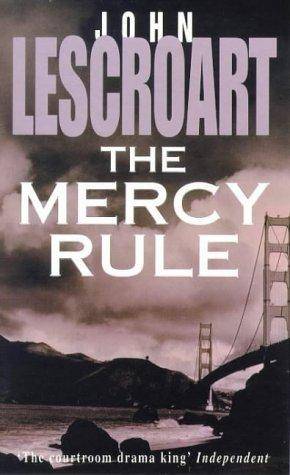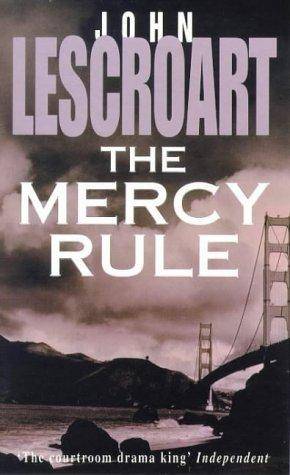 The Mercy Rule
The fifth book in the Dismas Hardy series, 1998
I owe thanks to a host of people who read the completed manuscript and to those who talked to me about their fields of expertise during the planning stages: Peter S. Dietrich, MD, MPH; Kay Schnieder of the Rush Alzheimer's Disease Center in Chicago; Mary Beth Stamps, RN, MSN, associate director, Alzheimer's Disease Center, UC, Davis; US Federal Judge William Shubb for his gracious assistance and introduction to the Ninth Circuit Court of Appeals; Terri Nafisi for her insights into life in and around the court; Bob Lindell for a fascinating tour and history of the federal courthouse in San Francisco; Al Markel of the San Francisco Fire Department; my uncle, John E. Lescroart.
Al Giannini of the San Francisco district attorney's office continues to be a brilliant analyst, a great friend and a true collaborator; his wife, Jan, kept the flame of the book alive when its author couldn't feel the heat. Don Matheson must be black and blue from everything I bounce off him. Peter J. Diedrich is always there for a fact, a name, a date, an obscure reference, or general background material.
William P. Wood and Richard Herman, Jr., supplied a last, big epiphany; Karen Kijewski and Max Byrd are tremendous and ongoing psychic resources.
Finally, thanks to Jackie Cantor, my editor, confidante, and friend. And to Barney Karpfinger, without whom not.
To I, J., and L., Champions All
Suffering is a fact of life; suffering is caused by attachment.
The First and Second Noble Truths of Buddhism
The past kept unraveling, tangled in an endless present. Afternoon sunlight slanted through the open window, warming the skin of the old man's face, throwing into bright relief the two-day gray stubble. Salvatore Russo reclined in an ancient Barcalounger that he'd pulled over to catch the rays. God knows, balmy weather was rare enough in San Francisco. You took it when you could.
He had his eyes closed, remembering another sun-dappled day. But to Sal it didn't feel as though he were remembering it. It was more immediate than that. He was living that long-ago moment all over again.
Helen Raessler was nineteen and the light shone off her honey-colored hair. She was lying on her back on the sand in a dune at Ocean Beach. Even now he could feel the warm sand. They were sheltered by the contours of the land, by the surrounding sedge.
In spite of the difference in their backgrounds Sal knew that Helen loved him. She loved his big hands – already heavily calloused from work and from baseball – and his thick hair and powerful chest. He was twenty-five.
No, he is twenty-five.
He pulls away from their kiss so that he can see her perfect face. He traces the line of her jaw with his workman's hand and she takes it and brings it down over her sweater to her breast. They've been seeing each other for a little more than a month, and the heat between them has scared him. He's been afraid to push her, physically, in any way. They haven't done even this yet.
They are kissing again and a sound escapes her throat. It is hunger. He can feel the swollen nipple under the fabric, of the sweater. He realizes that she has purposely worn no bra. A gull screeches high overhead, the waves pound off in the distance over the dunes, the sun is hot on him.
And then his shirt is open and her smooth hand is under it, pinching at his nipple, drawing her nails down his side, his belly. He pulls away again to see her.
'It's okay,' he says. 'I'll stop.'
'No.'
His hand has found her and she nods.
Hurry. She pulls at his belt and gets it undone.
She wears only a short skirt and it is up near her waist now and he is on top of her, her panties moved to one side.
She arches once into him. There is a moment of resistance, but she pushes violently then – once – with a small cry, and he is in her and she sets him, and the world explodes in sensation.
Opening his eyes, he looked down, surprised and absurdly pleased with his erection.
Well, what do you know? he thought. Ain't dead yet.
But the thought, as they all seemed, to, fled. As did the tumescence. His headache returned-the sharp, blinding pain. Frowning, he brought his hands to his temples and pressed with all his might.
There. Better. But, Lord, he could certainly do without that.
He looked around. The room was furnished in Salvation Army. Sal's lounger had bad springs and canted slightly to one side, but it was comfortable enough. Over the sagging green couch hung a piece of plywood upon which, sixteen years ago, Sal had watercolored his old fishing boat, the Signing Bonus. The grain of the wood showed through the faded paint, but in the right light – now, for instance -he could make out what he'd done.
There was a coffee table in front of the couch and a couple of pine end-tables, scarred with cigarette burns and water stains, on either side of it. The wall-to-wall carpeting was worn to its threads.
But Sal didn't need much, and he had more than most of the other people who lived in this building. A corner that got some sun. The place was small, okay, but had three legitimate rooms, this one and the kitchen and bedroom, plus its own bathroom. What the hell more did anybody need?
There was still most of a bottle of Old Crow next to a half-filled tumbler on the low table and Sal leaned forward, picked up the glass, and smelled to see what was in it. He didn't remember pouring any of the booze, but that's what it was, all right. He drank it off, a mouthful.
Something was nagging at him. What day was it? He ought to get up, check the calendar in the kitchen. He was supposed to be somewhere, but damned if he could remember.
He closed his eyes again. The sun.
On his face, making him squint against it. He's on the third-base side, a weekend day game at Candlestick, and everybody's shocked it's so nice out. Where s the wind? The whole family s down on the field – Helen's holding his hand and smiling, proud of their oldest, Graham, out in the middle of the diamond now, by the mound, getting his fifty-dollar U.S. savings bond for winning his age in the finals of the city's hit-and-throw contest. Kid's only eight and hits a hardball a hundred and fifty feet off a tee.
He s gonna be another DiMag – you wait and see.
Six-year-old Deb holds her mom's other hand and, embarrassed at being out in front of thirty thousand fans, holds on to her old man's leg at the same time. Her little brother, Georgie, begs himself a shoulder ride and now bounces up there, bumping his heels against his dad's chest, holds on to his hair with both hands, pulling. But it doesn't hurt. Nothing hurts.
Sal's got Helen and he's got the kids. His own boat. He's his own boss. The sun is shining on him.
But it's gotten cold. He should get up. Dusk was coming on and where's the day gone?
He walked over to the window and pulled it down against the breeze, sharp now. He could see the fog curling around Twin Peaks.
Straightening up, he stopped still, his head cocked to one side. 'God damn it!' He yelled it aloud and raced into the kitchen. The day was circled on his calendar. Friday!
Friday, you fool, he told himself. Business day. Customer day. Make-your-rent day. Keep your life together the one day you've got to!
'No, no, no!' Yelling at himself, stomping on the floor, furious. He swore again, violently, then kicked at the chair near the table, but it just sat there, obstinate. So he grabbed the back of it and sent it flying across the room, where it slammed into the cabinets, cutting new gouges into the pitted wood.
He left the chair where it was on the floor, then stood a long moment, forcing himself to calm down, to think.
This was one of the signs, wasn't it? He'd warned himself to be sure to recognize them when they got here, and now he wasn't going to go denying them. His mind was going to leave him someday – inevitably – and in the lucid moments he was clear on his strategy. He wasn't going to go out mumbling with shit in his diapers. He was going to die like a man.
He had the syringes, the morphine. He still knew where they were. Thank God for Graham – his one good son. The one good thing, when he looked back over it all.
He would call Graham. That's what he'd do.
He walked back through the living room. How had the window gotten closed? He was sure he'd been sitting in the chair and then he'd remembered it was Friday and he'd gone into the kitchen…
All right. The syringe. He remembered. He could still remember, God damn it.
But then he saw his watercolor and stopped again, lost in the lines he'd painted so long ago, trying to render his old boat. A foghorn sounded and he stared at the window again – the closed window. He stood in the center of the room, unmoving. He had been going somewhere specific. It would come to him.
Another minute, standing there, trying to remember. And another blinding stab of pain in his head.
Tears ran down his face.
The vials – the supply of morphine – were in the medicine cabinet with a couple of syringes, and he took the stuff out and laid it on the dresser next to his bed.
He went back to the kitchen. Somebody had knocked the chair over, but he'd get that in a minute. Or not. That wasn't what he'd come in here for.
He'd come in to check… something. Oh, there it was. The fluorescent orange sticker taped to the front of the refrigerator. Opening the freezer, he found the aluminum tube where he kept the doctor's Do Not Resuscitate form. It was still inside the tube, where it should be, where the paramedics would look for it. The form told whoever found him to let him alone, don't try to help him, don't hook him up to any damn machines.
He left the form in the freezer. In his bedroom again, he gathered the other paraphernalia and went back into the living room, where he laid it all out on the coffee table next to his bottle of Old Crow.
The window drew him to it. The thin ribbon of light over the fog. He sat himself on the couch and poured himself another couple of fingers of bourbon for courage.
He hadn't heard any approaching footsteps out in the hallway, but now someone was knocking on his door.
Suddenly he realized he must have called Graham after all. To save his life for this moment. It wasn't time for him to die yet. It was close, maybe, but it wasn't time.
He had called Graham – he remembered now – and his boy had come and they would find some way to work it all out until it really was time.
Dignity. That was all he wanted anymore. A little dignity. And perhaps a few more good days.
He got up to answer the door.
---